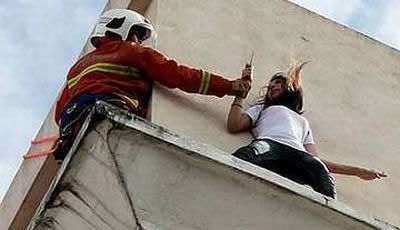 Shoppers were shocked to see a 20-year-old woman try to kill herself by jumping from a three-storey shopping complex.
She was saved by the quick action of the mall's management as well as Fire and Rescue Department personnel.
The woman, who works at the shopping complex in Wakaf Che Yeh, is said to be disturbed by family issues.
The drama unfolded at 3pm when the woman from Kampung Gaung, armed with a knife, perched on the ledge of the third floor of the building in Jalan Hamzah here.
Fire and Rescue Department personnel took more than an hour trying to coax her down from the ledge, but she refused to talk to them.
District Fire and Rescue Depart­ment operations chief Shahrin Yusman Mat Yusof said rescue efforts were made difficult after the woman threatened to stab herself whenever the firemen approached.
"One of our personnel, Mohd Zaki Ismail, managed to grab the woman but she resisted and fell.
"She was lucky to fall on a cushion put up by the mall management and department personnel," Shahrin told reporters at the scene here yesterday.
He added that the woman only suffered bruises on her face when she grazed the building during the fall.
The woman's uncle said she had personal problems with her mother.