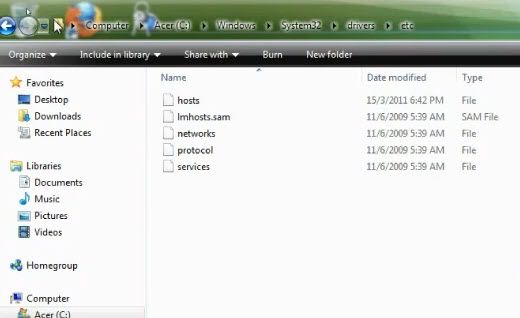 Why Facebook loading speed so slow?
At 11 March Japan earthquake affected Malaysia Facebook loading speed. According to
Telekom Malaysia Berhad (TM) announcement
, US Cable Network (JUCN) and Asia Pacific Cable Network 2 (APCN2) cable networks linking Malaysia to The United States of America (USA) and Hong Kong (HK).
In order to get back the Facebook speed up the connection, we need to bypass the server in Hong Kong. Now, you need to force your computer to use the IP address to access Facebook.com. You need to edit Hosts file on your computer.
Step :
1. Go to C:\Windows\System32\drivers\etc\
2. Open hosts file with notepad.exe
3. Add the following: 203.106.85.66 www.facebook.com
4. Save.
5. Visit http://www.facebook.com and enjoy the super fast speed!
If you using Windows 7 or Windows Vista do this :
1. Click on Start, type in Notepad and then right-click on Notepad and choose Run as Administrator.
2. Now open the hosts file at C:\Windows\System32\drivers\etc\ folder and make sure to choose All files for File Types otherwise you won't see the Hosts file.
3. Make your changes to the Hosts file and click File and Save to save all changes. Now you will not get the error about not being able to modify the Hosts file.
Video Tutorial
Video Source