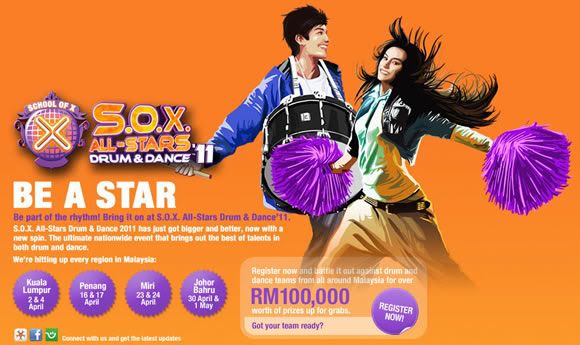 Good news for those who like to play drums and dance. Celcom held an event called
S.O.X. All Stars Drum & Dance
to brings out the best of talents in both drum and dance. This event is set to be Malaysia's largest inter-school challenge in drumline and cheer dance.
The
S.O.X. All Stars Drum & Dance
2010 attracted more than 8400 people during the finale at National Stadium, Kuala Lumpur. There are some photos from 2010.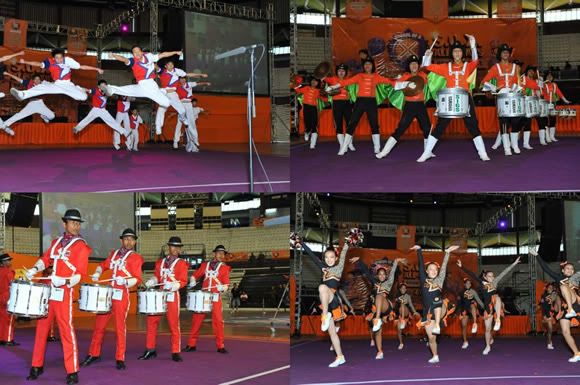 You don't need to wait because the
S.O.X. All Stars Drum & Dance
2011 is back. The hosts is DJ Ean and DJ Zher will be making a special appearance at the competition.
Here is the last year's participants had to say :
i) 3C Band from SM Cochrane (DRUM) - "We feel really, really great today! We enjoyed the performance! Biasa lah, yang jerit mostly the girls kan? We all rasa happy, semangat pun datang!"
ii) D'Starz from SMK (P) Sri Aman (CHEER) "Everyone was really good but we're definitely on top!"
For those of you who missed out on all the action, fun and excitement during last year's
S.O.X. All Stars Drum & Dance
, here are some videos to show you :
For
S.O.X. All Stars Drum & Dance
2011 event, they are giving out more than RM100,000 worth of cash and prizes. This is a music and beats competition extravaganza all under one roof! If you think that your cheering squad or drumline ensemble have the makings of a great musical outfit, and have got what it takes to mix it with the very best in the country and win BIG, then what are you waiting for? If you are interested to participial the
S.O.X. All Stars Drum & Dance
go to
HERE
to register for drumline and cheer dance. You can check the rules and regulations for both drumline and cheer dance at
HERE
.
During 16 & 17 April 2011 at Kompleks Sukan Rakan Muda Seberang Prai Selatan in Seberang Prai, Penang held the
S.O.X. All Stars Drum & Dance
2011 Northern Regional Heats. The event is crowded with people to enjoy the awesome drumline and cheer dance performance. SMK St George from Penang with it is all-girl team emerged with the highest score in the drumline and cheer dance category at the two-day event. The girls are now qualified to compete in the national finals at Dewan Sri Putra in Bukit Jalil, Kuala Lumpur, on June 18. There are some photos taken in Penang.